Junior Lesson Rates
Private Lessons & Packages                                                         Contact Rick
Indoor Golf Instruction
60 minute private lesson                                      $60.00
PLAYER DEVELOPMENT PROGRAM
This program is specifically designed for your junior golfer who wants to improve their game and bring it to the "Next Level".  Many of the juniors that join this goal-oriented curriculum have the goal of either making their High School Golf Team, improving their position on the team or even playing College Golf.  The minimum agreement is for 3-months and then can be moved to a month-to-month.
It is also encouraged for juniors to play on my US Kids Tours (ages 14 & under) which are available Spring/Summer/Fall.
What is Included                                    COST:  $600 (3-month agreement)
four one-hour private lessons per month
weekly practice goals and homework
unlimited hour playing lessons ($50)
tournament preporation and post-tournament coaching
video swing analysis during lessons
US Kids equipment discounts (20%)
On-Course Instruction
9 holes Par 3 Course             $100.00
9 holes Regulation Course   $175.00
Group Lessons
Create your own 1 Hour Junior Clinic
2 student's      $40.00 ea.
3 student's      $35.00 ea.
——————————————————————————-
NEW PROGRAM…Drive, Chip and Putt Championship
DRIVE, CHIP & PUTT "TRAINING CAMP"
This training camp is designed to help you succeed at the Local CO Qualifiers.  The 2017 Drive, Chip and Putt Championship is open to boys and girls ages 7-15. Boys and girls will compete in separate divisions in four age categories: 7-9 years old; 10-11 years old; 12-13 years old; and 14-15 years old.
You will need to register for this Free chance to win a trip to the Masters 2018 and compete for the National Championship.   Click HERE for link to Free Registration.  Sign-up now…space is limited.
3 individual 1/2 hour training sessions          Cost $99.00
Qualifying Sites are on the DCP website….sign up now for FREE.
One of my students who made it to the semi-finals 2015…Congrats to Megan Royal.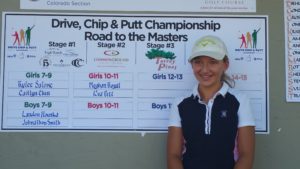 ************************************************************************
TEAM GOLF PROGRAMS
First Tee of Denver "Players Club"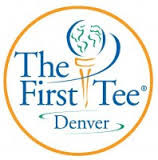 Enrollment OPEN for this program.  
When signing up under preferences put "Coach Rick"
Got to this link for information…PLAYERS CLUB 
14 hours of personal instruction from Coach Rick
on-course, chipping, putting, full swing, rules & etiquette will be covered
7 tournaments hosted for team competition
limited to 12 players per team
total cost $125.00 (minimal green fees extra for events)
 Junior's Gallery
2011 Junior Camp
Favorite Putting Game – "Putt – Tac – Toe"
Putting Instruction
2010 Denver Junior Open
Full Swing Practice
Rules of Golf Class
Lag Putting Drill
Pitching practice
Tyler Martinez "Player of the Year 2009"
NaNa Kim "Most Improved 2009"