Colorado PGA Golf in Schools Program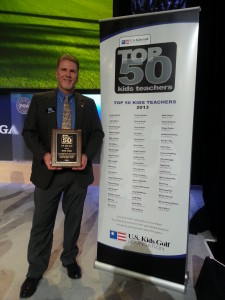 Since 2011 Rick has personally introduced over 10,000 kids, grades K-12, to Golf through the Colorado PGA Golf-In-Schools Program.
This program is a "Free" program sponsored by the Colorado PGA Section, the Colorado Open Foundation, CWGA, CGSAA and CGA and provides the opportunity to learn golf while in school.
If you are interested in hearing more about this program, please contact Rick Timm, PGA or download the brochure. Our goal is simple, the PGA would like to give a youngster the opportunity to learn golf and experience the game for a lifetime!
 Colorado PGA Section Spotlight
Gallery
Peakview Elementary – Gym Set-Up
OPTIONS – Home School participants
Beautiful Day at Vista Peak Elementary
Aurora Public Schools – Home School program FCC
Kids learning what a golf hole looks like – Options School
Prescott Elementary School
Samuel's Elementary School
Vassar Elementary School
Vista Peak High School
Learning to Putt at Stober Elementary
Free Golf Ball Day!