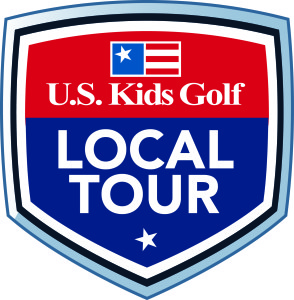 Visit our Website NASHVILLE TOUR SCHEDULE       Contact Rick with any questions:  931.310.1212
U.S. Kids Golf Local Tours are created to provide boys and girls, ages 5 to 18, the opportunity to advance their skills in the game in age-appropriate competition without having to take the time and incur the costs of having to travel long distances. A Local Tour consists of between six and eight one-day tournaments including a season-ending one-day Local Tour Championship. Players earn awards and points for each tournament.
While events were traditionally only held for players between the ages of 5-14, beginning in the Summer of 2020, most U.S. Kids Golf Local Tours began including a new 15-18 age group to help young golfers and their families continue to create positive experiences throughout the player's entire junior career.
Similar to the PGA Tour, players at U.S. Kids Golf events are encouraged to have caddies to help them play their best. Allowing caddies is a special component of our tournaments and is part of our commitment to encouraging family interaction that builds lasting memories. Players age 8 and under must have a caddie at all times. To help you become a better caddie, U.S. Kids Golf has partnered with the Positive Coaching Alliance. PCA's mission is to build character-driven athletes and will help you stay positive on the course as well as further developing the relationship with your son or daughter. Please review the USKG Policies for more information on this special part of all U.S. Kids Golf competitions.
Local Tours also provide players the opportunity to qualify for U.S. Kids Golf multi-day events through our Priority Status system. Players may qualify for events such as State Invitationals, Regional Invitationals, International Championships, and our U.S. Kids Golf World Championships in Pinehurst, NC.
All tournaments will be held based on the yardages represented under Age Groups & Yardages.
| | |
| --- | --- |
| DATE | NASHVILLE TOUR   Spring 2022 |
| 13-Mar | INDIAN HILLS GC |
| 27-Mar | TIM'S FORD @ BT |
| 9-Apr | LAKE TANSI GC |
| 10-Apr | RIVERBEND GC |
| 24-Apr | BEAR TRACE GC |
| 8-May | WHITE PLAINS GC |
| 22-May | OLD FORT GC |
| 29-May | PINE CREEK GC |
___________________________________________________________